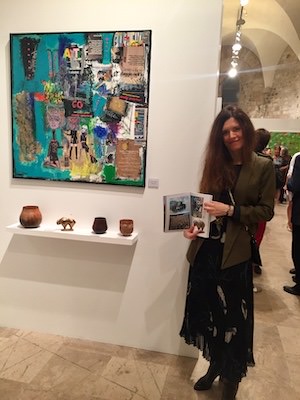 I am French-Polish and I live in France, Orleans.
I paint since 2008. Before, I worked with a Polish artist. We made a few fashion shows in Poland (Warsaw and Lodz). Until then, my artistic sense was expressed more in fashion clothing.
The ability to express emotions through painting has always fascinated me. It was something of a revelation, not of my artistic side, but my ability to express myself on a canvas.
In my paintings, I want to express my emotions. I never prepare what I am going to paint, it is a spontaneous expression of my imagination. My paintings are subjective because I have no perception of people who will watch.
So everyone will see what he wants.
Exhibition at the Dep-Art Gallery from November 24 to December 15, 2012 in Orleans, France.
Exhibition at the Maison des Associations from January 20 to 25, 2014 in Orleans, France.
Exhibition at the Club 15 Gallery from March 13 to April 19, 2014 in Orleans.
Short film "Baby rush": use of artworks in the film set in 2014.
Illustration of a book on a New Zealand singer with one of my paintings (Rebel).
Exhibition at the Marché des Arts on October 11 and 12, 2014 in Campo Santo in Orléans, France.
Exhibition at Maison du saumon from 6 to 21 December, 2014 in Chartres, France.
Exhibition at Colorida Art Gallery from October 18, 2014 to January 31, 2015 in Lisbon, Portugal.
Exhibition at the Marché des Arts on October 10 and 11, 2015 in Campo Santo in Orléans, France.
Exhibition at Bookstore Passion Culture from April 19 to May 4, 2016 in Orleans, France.
Exhibition "Expressions d'art du Giennois" from 27 September 27 to October 7, 2017 in Gien, France.
Permanent exhibition in 2016 and 2017 in Gallery 13, Minneapolis, USA.
Exhibition at Domaine and Golf of Vaugouard (Loiret, France) from January to June 2018.
Exhibition at annual exhibition of Orleans artists from October 20 to November 4, 2018 at "La Collégiale Saint-Pierre, Orléans, France."